Last weekend I went to The Land Rover Burghley Horse Trials, Stamford, for the very first time. One of the highlights of the weekend was adventuring around the many shopping Pavilions in search of some serious fashion treasure. And I wasn't disappointed.
Here are some of my best finds:
The beautiful collection of sensational hats made lovingly with vintage jewels, antique ribbon and lace by Jessica Mary Design;
Funky and certainly original, I just loved this horse bit lamp from Antiques by Design;
Hicks and Hides belts which are all made with real leather and recycled shotgun or rifle brass casings are so stylish;
I just LOVE this exclusive Sterling Silver Alex Monroe Hiho Prowling Fox With 22ct Gold Plating. So Gorgeous! And there are more treasurers like this on the HiHo website.
And my favourite, The pegia woolmark sheepskin slippers from award wining online shoe boutique, Goody2Shoes. So feminine and luxurious.
It was also an absolute pleasure to catch up with Robyn Foot from Ride Botswana who was exhibiting at Burleigh along with In the Saddle.
Ride Botswana offer amazing Horse Safaris, as well as Private Safaris, in the Botswana Kalahari Desert, Makgadikgadi Salt Pans plus Thamalakane River, exploring the edge of the Okavango Delta.
Hot off the Press: David & Robyn Foot & family, of Ride Botswana, recently welcomed team TAYLOR SWIFT and her film crew for the newly released music video – Wildest Dreams – produced by Joseph Kahn. Kahn had been looking for a perfect location to film America's biggest star cantering on horse back in front of giraffes, and with David guiding the way, Kahn got just what he came for!
Introducing Dupfrie, the lucky horse who was selected!
And here you can see the famous horse cam:
You can watch Dupfrie's finest hour in the video here. Oh, and all of Taylor's proceeds from the video, will be donated to wild animal conversation efforts through the African Parks Foundation of America, so get watching!
Ride Botswana offer different types of safaris to suit your requirements and you may even get to ride Dupfrie!
Contact them here to find out more.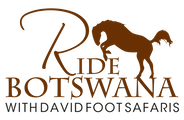 Get social and keep up-to-date with my latest news via the links below.

www.rocketmarketingpr.co.uk