Yesterday I went to Staffordshire's biggest gastronomic gathering, The Stone Food and Drink Festival which is supported by Taste of Staffordshire.
The festival which includes tastings, live cookery demos, shopping, talks, drinks, live music, gourmet dining, adult and kids' cookery masterclasses, street food & a circus, is now in its 10th year and is busier than ever!
Located at Westbridge Park – a very short walk from the town centre of Stone in Staffordshire – this food festival is expected to attract up to 20,000 visitors over three days and in total generate over £500,000 for the local economy. Wow!
There was so much to choose from but here are some of my best picks:
Prosecco – Food and Glass Pairing
Julia from Just Perfect Wines gave a fascinating talk about the marriage of Prosecco and food, focusing on what 'sweetenesses' go best with which course.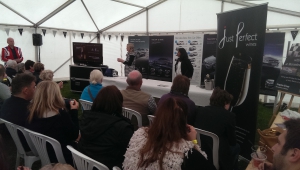 Don't miss their fabulous offer of 'Taste 3 Proseccos and choose a glass of your favourite' for only £5! You can find Just Perfect Wines in the Gourmet Marquee all day (Sunday 4th Oct 15). If you can't make it, find them here online.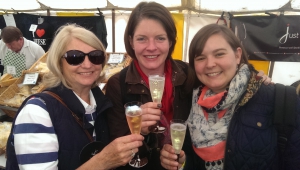 French Saucisson
It was great to find artisan french food seller, French Flavour, who were selling a great range of classic French saucisson from wild boar and rabbit to fig and hazlenut. Yum! An absolute must if you enjoy your cured meats.
Gin
The Ely Gin company had a huge crowd gathered around them most of the day.The branding is superb and they have a wonderful selection of flavours. Go try.
Also great to see local brewer Lymestone Brewery in the Beer Tent. Go and try their range of locally brewed cask ales and bottled beer. Really impressive!
Students Brea, Millie, Emma & other volunteers from Staffordshire Uni Event & Tourism Awards were volunteering at the festival to help with social media campaign, as well as selling festival t-shirts and surveying visitors on the reasons for their visit. If you get the chance, support both the student volunteers and the festival by completing one of their visitor surveys; it doesn't take long, there are some amazing prizes to be won and you will be contributing to the ongoing improvement and success of this fantastic annual event.

The event which is a non-profit run by a Community Interest Company (CIC) founded in 2004 & run by volunteers, ploughes all monies directly back into the event with the aim of making the following year even bigger and better than the last.  With the growth of visitors, and perhaps increase of over night stayers, this event not only benefits the community & residents of Stone, but has a knock on effect for wider tourism in the county and hence the local economy; something we can all benefit from! Many Congratulations to all, a huge success!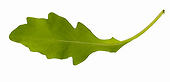 Do you have a local food or drink business that you are looking to promote?
Rocket Marketing can help.
Whether you are looking to boost sales, launch a new product or service, sponsor an event or award, are involved with local community activity or just want to raise awareness, Rocket Marketing will work with you to create a positive, consistent and credible message about your organisation's mission, policies and practices.
With a wealth of experience & a passion for food and drink, Rocket offers a range of easily accessible promotional products via tool kits, coaching, one-to-one training sessions, mentoring or bespoke packages.
Click here to see the services available or Contact me here. Let's chat.